SIGNATURE COCKTAILS
Honey and Cinnamon Cafe, Cocktail Bar and Deli is
brand new in the heart of the Naxos' nightlife at the
old town of Chora. It is also the meeting place in
Naxos for anyone wishing to relax or have fun over
coffee or drinks with friends in a specially Cycladic
designed space with excellent service…..
CYCLADIC
CAFE- COCKTAIL BAR AND DELI
CYCLADIC DESIGN
Come to Honey and Cinnamon to enjoy the best
cocktails, meet people and have fun! Honey and
Cinnamon is ideal for any time of day. You can sit
outside and watch passersby while sipping your
cocktail, or take a seat at the bar…….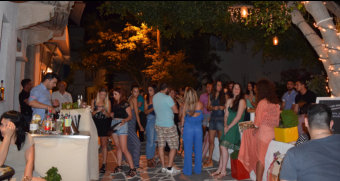 WINTER CULTURE
Located in Chora's most center road to the entrance
of castle, people gather at Honey and Cinnamon
during all hours of the day, from 9 in the morning
for coffee, throughout the afternoon, after the
beach for relaxation and the last coffee of the day
and at night for endless fun.

Address: Naxos/Pradouna/Road to castle

info@melikaikanela.com

+302285026565

mob: +306948501483